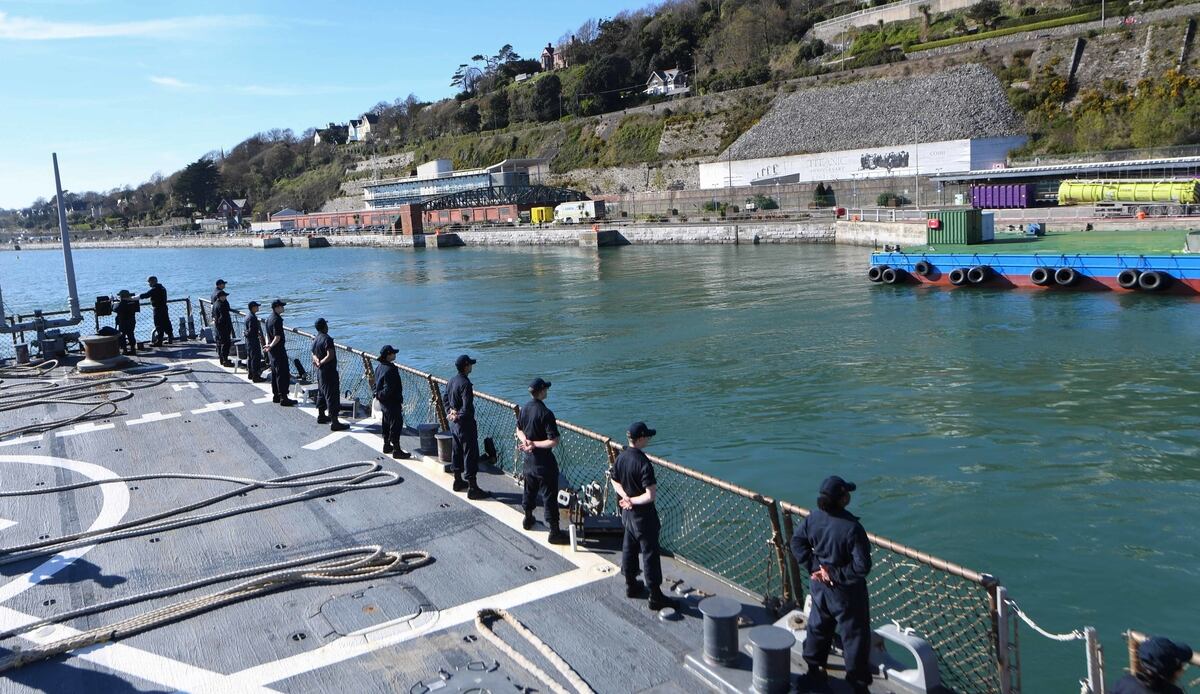 Sailors man the rails as the guided-missile destroyer Donald Cook departs Cobh, Ireland, on March 25, 2017. (Navy)
The military is prosecuting a Navy chief in Norfolk on multiple sex crime charges, including an alleged rape that triggered an international incident in Ireland.
Chief Intelligence Specialist Ray D. Braimer has been charged with tugging down a fellow sailor's leggings and underwear and raping her while she resisted on March 22, 2017, inside a Dublin hotel during a liberty visit by the guided-missile destroyer Donald Cook to the southern Irish port of Cobh.
Prosecutors further claim that Braimer unlawfully crawled into the bed of female sailor in Ireland on the same date and tried to kiss her without her consent.
Also on the same day, he allegedly sexually harassed a fellow sailor by telling her she was beautiful and inviting her to his room and "stating that he hates the fraternization policy of the Navy that prevents him from being with any woman he found attractive because of pay grade," according to redacted charge sheets released to Navy Times.
Braimer also faces an abusive sexual contact charge for allegedly rubbing the knee of a female sailor in Souda Bay, Greece, three months earlier.
Because of the charge sheet's redacted passages, it's impossible to determine if the alleged victims were multiple women or the same sailor.
Both Navy officials and Braimer declined comment and the chief did not return multiple telephone and social media messages left for him by Navy Times.
The female sailor was taken to a local hospital where she provided a sexual assault evidence kit and made a statement to Irish police, who were joined in the investigation by Naval Criminal Investigative Service agents.
In the wake of Braimer's arrest, the American embassy in Dublin issued a statement that Navy officials were cooperating fully with Irish authorities and expressed the "deep respect and gratitude to the people of Ireland for the personal friendship that they have extended" to visiting service members.
Irish authorities later surrendered jurisdiction to the Navy.