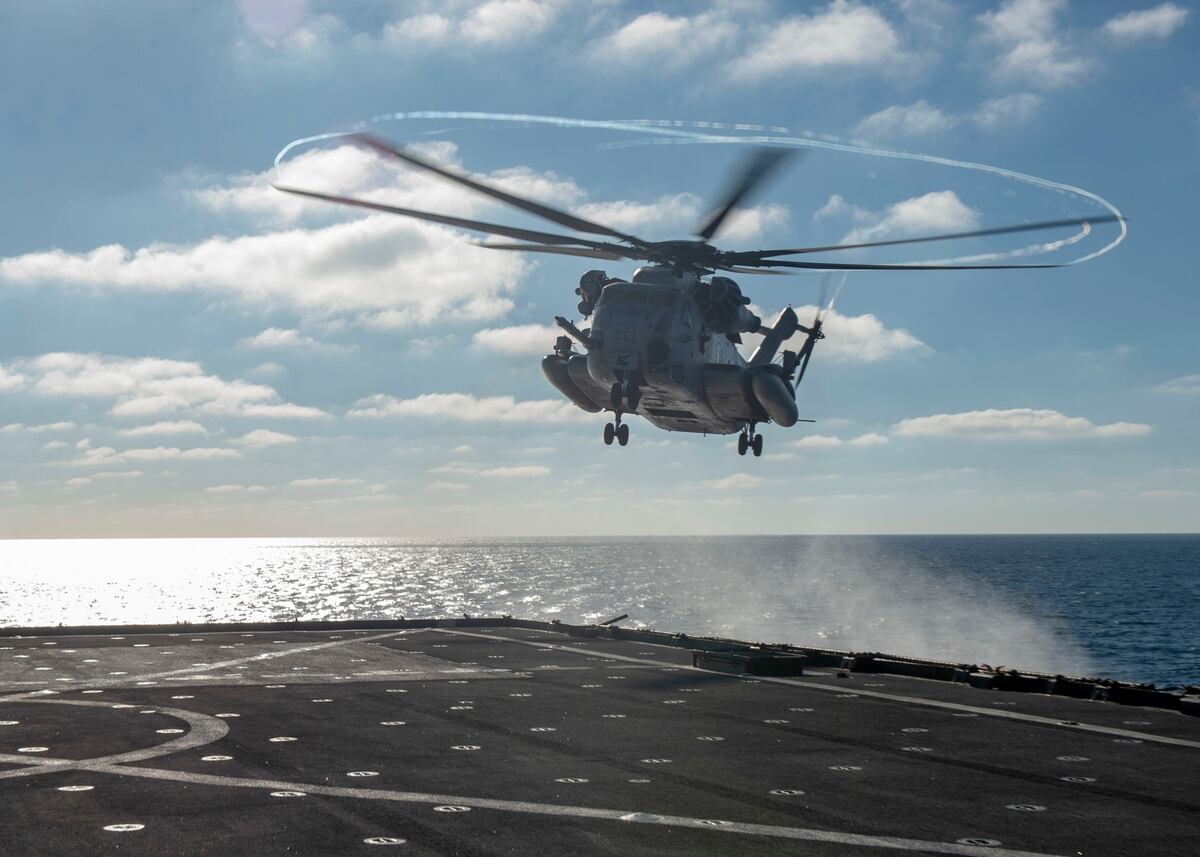 A junior officer stationed with Helicopter Sea Combat Squadron 26 was convicted at court-martial last week. One of the squadron's helicopters is shown here last month. (Mass Communication Specialist 3rd Class Chris Roys/Navy)
A Norfolk-based junior officer entered a guilty plea at court-martial last week to charges involving sexual harassment and assault, according to charge sheets and officials.
Lt. j.g. Ruben L. Anderson, an aerospace engineering duty officer with Helicopter Sea Combat Squadron 26, pleaded guilty to the charges as part of a pre-trial agreement.
His plea deal included copping to harassing a sailor on Aug. 23, 2017 in Norfolk by making "sexually charged comments" that including asking "if the carpet matched the drapes," and saying, "you've got a nice butt," "I want to kiss and lick it," "take those shorts off" and "I was gonna kiss you real quick," according to charge sheets.
Anderson also pleaded guilty to assault consummated by a battery for pulling down a victim's underwear and shorts on the same day, and for "unlawfully" throwing someone against a wall and shelf, according to charge sheets.
He was sentenced to a reprimand and must forfeit $2,900 for one month, according to Navy Region Mid-Atlantic spokesman David Todd.
Stephan J. Raniszewski was fired as the senior enlisted leader of the future warship Thomas Hudner this spring.
The records provided to Navy Times redacted all names but Anderson's, so it remains unclear whether the junior officer was charged for incidents involving more than one individual.
All but one charge states that the allegations occurred on or about Aug. 23, 2017.
Anderson's attorneys declined to comment through Navy Region Mid-Atlantic officials. The junior officer also did not respond to messages from Navy Times.
Todd said that military prosecutors withdrew and dismissed several other charges as part of the plea agreement.
A specification that accused Anderson of telling a sailor that "I like white chocolate" and "how do you fit all that in them jeans," was withdrawn and dismissed, for example, as was a charge alleging that he touched a woman's buttocks.
Conduct unbecoming an officer and fraternization charges from the same date were also withdrawn, according to officials.
Anderson enlisted in 2003 and received his commission in 2014, according to service records.
He reported to the "Chargers" in late 2015.