Jakarta   /   

Wed, March 18, 2020

 

  /   03:17 pm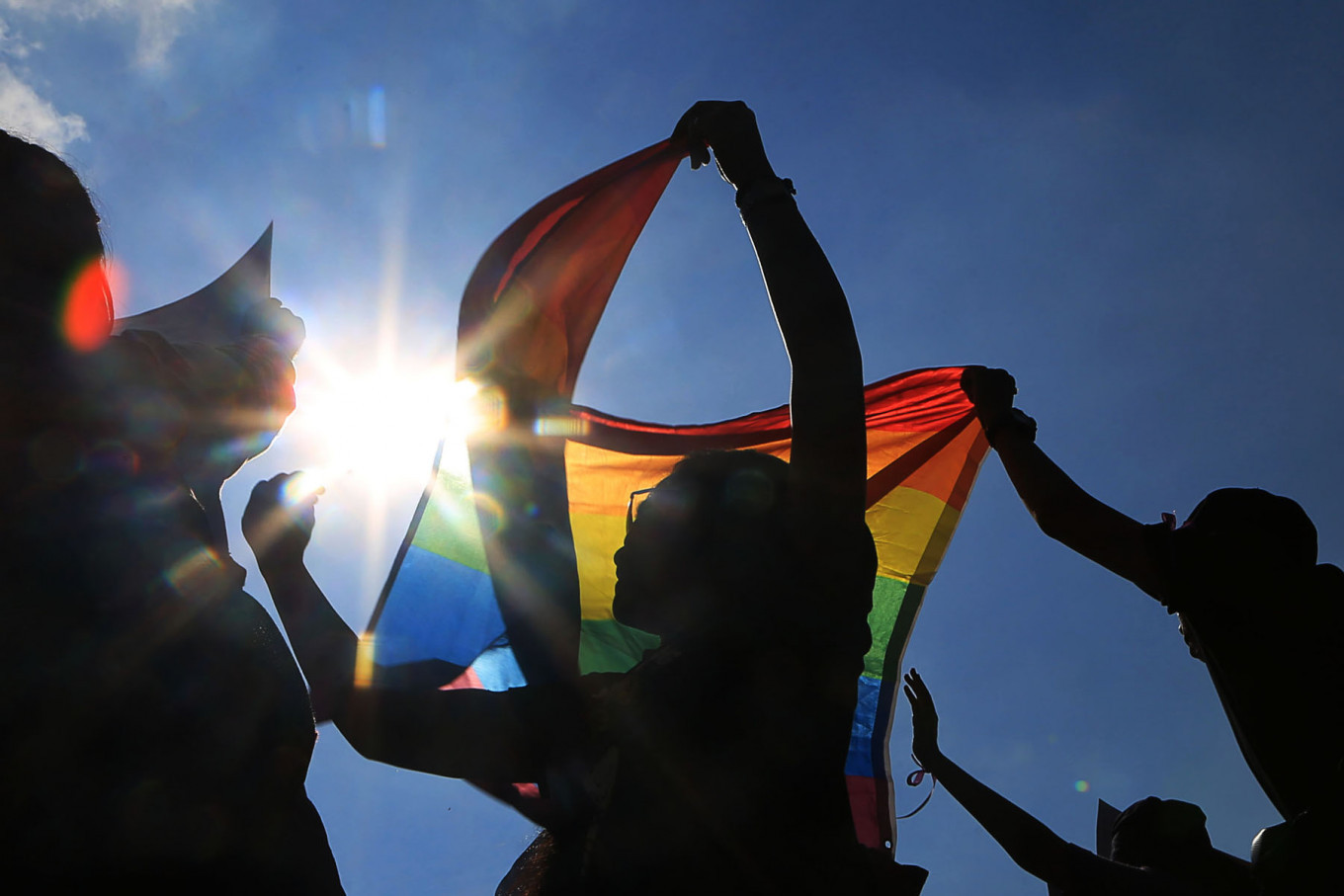 Participants raise a rainbow flag in a march to commemorate International Women's Day in Jakarta, on March 8, 2019. (JP/Seto Wardhana)
A gay soldier, a second lieutenant of the Indonesian Army identified only by his initials DS, is fighting a legal battle over his alleged personal relations with three men in 2017 and 2018. His prosecution is discriminatory, according to rights groups.
The prosecutor, Lt. Col. I Putu Gede Budiadi, indicted DS for his alleged same-sex relations with one man at a hotel in Canggu in Bali in April 2017, another man at a hotel in Denpasar in October 2017 and a college student at a hotel in Seminyak in 2018.
DS, who joined the Army after graduating from a military academy in Magelang in Central Java in 2016, was accused of committing a crime based on Article 281 of the Criminal Code on public decency. The prosecutor was also accusing DS of disobeying a command and violating Article 103 of the Military Criminal Code.
The trial against DS in a martial-court in Denpasar was the latest example of numerous forms of persecution confronting the lesbian, gay, bisexual and transgender (LGBT) community across the country, according to activists. Many activists and experts have been denouncing such accusations against people for same-sex relations as a form of discrimination and a violation of human rights.
The indictment was not the correct application of Article 281, which stipulates that the offense must be carried out "publicly" in open spaces, said Institute for Criminal Justice Reform's (ICJR) researcher Genoveva "Geno" Alicia Karisa Shiela Maya.
The article was often interpreted loosely so as to provide room for discriminatory prosecutions of members of the LGBT community.
"The reason [behind the use of the article against LGBT people] might be more because of social factors," Geno told The Jakarta Post on Sunday. "If the law is applied appropriately, there is actually no basis that can be used to prosecute [LGBT people], but the problem is this law is being interpreted freely, so such cases keep happening."
Between 2006 and 2017, LGBT advocacy group Arus Pelangi recorded 172 cases of persecution of members of the marginalized community across nine provinces in the country. The cases include various forms of persecution, such as intimidation, abuse, maltreatment, molestation, personal data leaks, raids, destruction of goods, rape, forced-dispersion, nonprocedural arrests and detainment, murders, extortion, obstacles in obtaining permits to hold events and forced-conversion attempts.
Many Indonesians perceive LGBT people negatively. A 2018 survey by Saiful Mujani Research Center (SMRC) found that, out of 1,200 respondents, 87.6 percent saw LGBT people as a threat and 81.5 percent said the orientation was prohibited by religion.
Activists said the central government is complicit in the rampant discrimination against this community, as evident in last year's civil servant recruitment involving 190,000 vacant civil servant posts at 74 ministries and state agencies, as well as 467 local administration offices. The Trade Ministry required its candidates "not to exhibit sexual orientation deviations". Worse still, the Attorney General's Office required its candidates "not to be mentally disabled, including sexual orientation deviations and behavioral deviations".
"[DS's] case is appalling and discriminatory," Amnesty International Indonesia executive director Usman Hamid said in a recent statement.
"It sets a dangerous precedent for other soldiers who are or are perceived to be engaging in consensual same-sex activities and has repercussions for broader society. No one should be persecuted or discriminated against because of who they are or who they love."
The court-martial of DS showed that Indonesia did not comply with its obligation as a signatory to the International Covenant on Civil and Political Rights, which protects same-sex relations under the rights to privacy and freedom from discrimination, Amnesty said.
In 2018, for example, 12 transwomen were arrested by the police in North Aceh, which, according to Amnesty, was in violation of the treaty. Moreover, five beauty salons where the 12 transwomen used to work were closed by the police.
"It is important for them to acknowledge that a person's sexual orientation is totally irrelevant to their ability to serve," said Usman. "Going ahead with this prosecution would further institutionalize discrimination and risk inciting violence against LGBT people in the military and in wider society."
Supreme Court spokesperson and justice Andi Samsan Nganro refused to comment on the DS case, saying it would "disrupt the court's independence" or be "violating the presumption of innocence principle"